[ 1. Independent safety valve ]
It can be used as a safety device for any pipeline.
● L type 1/2 -2B
Direct-acting threaded type.
● LF type 1/2 - 6B
Direct-acting flange type.
For 3/4B or higher, a jacket can be provided.
● LFP type 1 - 4B
Pilot flange type. An independent safety valve for high pressure.
Consult us if a jacket is needed.
● LFOV type 1/2 - 3B
Completely sealed flange type for vacuum lines.
● LF-J type 3/4 - 4B
Direct-acting flange type with a jacket. Made of SUS only.
| | |
| --- | --- |
| | |
| Independent safety valve L type | Independent safety valve LF type |
| [1] [2] | [1] [2] |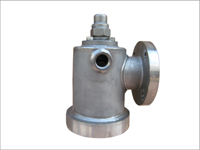 Independent safety valve LF-J type
[1] [2] [3]
■ Structural drawing (Independent safety valve)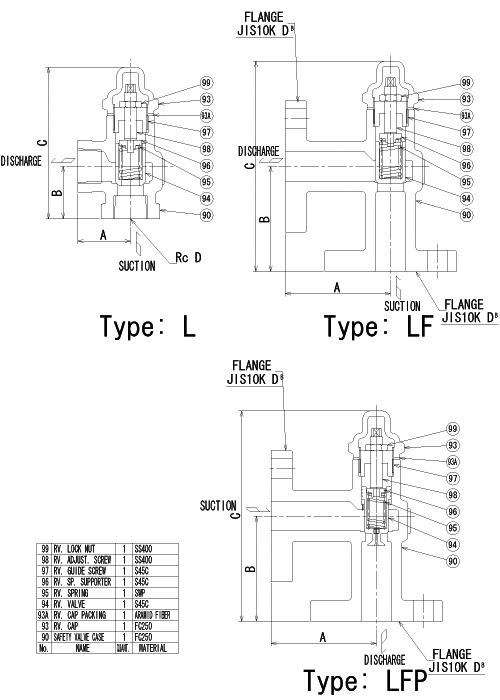 ■ Specifications (Independent safety valve)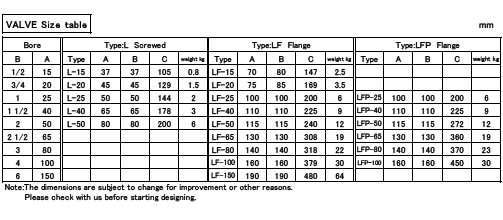 [ 2. Built-in safety valve ]
| | |
| --- | --- |
| ● MCR type 1/2 - 4B | MCR-2 type - |
| ● HPR type 3/8 - 2B | HPR-2 type - |
| ● KHR type 1 1/2 - 6B | KHR-10 type - |
| ● OHR type 1 1/2 - 8B | OHR-10G type - |
The MC, HP, KH and OH types can have a built-in safety valve.
(Not possible for MC, KH and OH if a jacket is already provided. Contact us for details.)
The KR, HSR, KSR and VSR types have a built-in safety valve as standard.

For planning safety valves, see "Gear Pump Q&A Q8."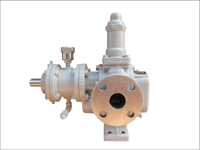 KHR-Tv2 type built-in safety valve
[1] [2]  [3]
■ Structural drawing (KHR-Tv2 type)