■ Applicable to various specifications
[Example 8] Transportation of low- to high-temperature/viscous oils, etc.
Even if the temperature/viscosity of a pumped fluid varies widely, in combination with a motor with inverter or speed variator, constant flow rate or flow rate control can be provided.

Installation example:
Viscosity
Min. 10 mPa•s@150°C to Max. 10,000 mPa•s@ -20°C
When transportation of the above oil at a constant rate or certain amount is desired, an inverter constant-torque motor in combination with a gear pump controls the rotation speed to 200-600 min-1, and the inverter varies the rotation speed so that the oil is transported corresponding to changes in temperature and viscosity.
---
[Example 9] Pumps for apparatus dealing with multiple kinds of fluid
By controlling gear pumps for each kind of fluid by an inverter, multiple kinds of fluid can be mixed at a fixed blend ratio. Our gear pumps accommodate a wide range of flow rate, and depending on the condition, discharge pressure of up to about 7 MPa can be provided.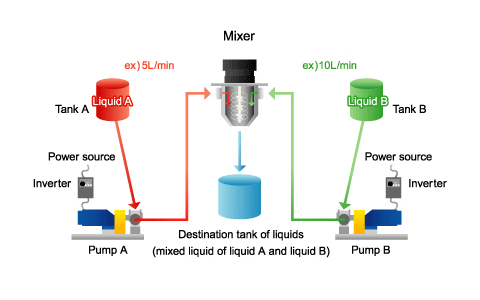 *
The above are installation examples of our gear pumps.
Please consult us when planning your own specifications.
Please check the "Quotation request" page for more information.